Financial Services Newsletter | July 2020
---

Our approach to team communications in 2019 and thus far in 2020 have been largely dedicated to some very specific team goals. While we've been working remotely very effectively, we'd like to try something new in an effort to stay better connected and informed -to draw back the curtain and provide better transparency into the work each of us is doing to achieve our greater, common goals.
That being said, I'd like to introduce our Financial Services newsletter.
This quarterly publication will serve as a central point of reference for all happenings within the Financial Services world, as well as an environment in which we can highlight our achievements, bring to light our pain points, and open the door for further conversations.
I'll kick this first edition off with a quick review our 2020 goals. As you move through the team updates to follow, keep these goals in mind.
2020 Financial Services Team Goals
Faster Close: Ensuring we have processes in place to deliver robust, accurate, and impactful F/S by 15th business day
Data Validation Vigilance: Not being satisfied until the data is completely accurate.  Encouraging getting your hands dirty on transactions that appear strange.  Creating Reports/Reconciliations that will help ensure financial statement validity
Financial Reporting: Increase the impact and value of financial reporting to our affiliates
More consistent financial reviews with affiliates:
Education: Maintaining a culture of continuous learning amongst our team as well as educating the Affiliates on financial best practices
AP Automation
Inventory Efficiencies & Automation
IN THIS EDITION…
A Note From Bob
A Look Inside The Tax World | Jeannine August, Tax Director
Introducing: OneSource | Robin Lee, Tax Technologist
Introducing: Solution 7 | Joe Grimes, Financial Reporting Manager
Advantage's "Clean Up Project" | Erika Wilbourn, Accounting Manager
WesTech & Accounting Updates Coming In August
SURVEY | Summer Outings & Team Gatherings
Book Club
An Update From API | Siobhán Dunphy, Sales Reconciliation Associate
Useful Tips & Resources For Professional Development
As is the case with most new ideas in our world, we're considering this first edition a test. And we need your response in order to measure whether or not we lean in and scale up, or chalk it up to a flop and abandon it. So please know that your feedback is wanted and needed.
Now, for the latest from around the team.

A NOTE FROM BOB
Welcome… Where has the time gone?  Where has the world gone?  When will $%*&! COVID-19 be gone?!
The year 2020 has brought forth many unpredictable changes and never thought of challenges.  Yet, like every great team, we have adjusted, adapted and evolved.
I want to thank each and every one of you for staying focused and providing excellent service to each other and the customers we support.  I could not be prouder and I am honored to be associated with all of you!
Keep up the great work and I look forward to seeing you back at 1217 when the time is appropriate.  Until then, stay safe and stay responsible.  This period in our life will pass and normalcy will return.
Thanks,
Bob
A LOOK INSIDE THE TAX WORLD
When I started in November of 2011, we prepared about 10 federal returns for our operating businesses, along with only one or two states (MD and FL) returns for those businesses. In addition, we had 10 real estate partnerships that we were responsible for – all in the US.
Our sales tax filings were limited to Florida and Maryland, and resulted in less than 20 filings per month.
Since then, we have spun off the affiliate businesses to a foreign parent (Agora Holdings (Cyprus), had a Supreme Court case (Wayfair) that requires us to file returns in many more states, and a major overhaul of US tax code that made international tax and pass through tax (which we, as an S corporation, are) much more difficult.
And so today, I wanted to pull back the curtain and shed some light on the volume of work our team is handling.
Today, the tax department handles…
Filing sales tax returns for the corporation at large (M&C) as well as 18 other operating companies in a total of 44 states (up from 2 states from when I started back in 2011!).
… Many states have different tax rates and rules for different localities, and sometimes separate filings must be made.  This means we are responsible for providing information to file over 475 sales tax returns per month, and growing… we will file over 500 returns per month in the near future.
…Each state also requires that estimated payments be made several times a year, each with different due dates and requirements to keep us penalty free. And there are often requirements for e-filing and e-paying.
…Because we are entering so many other states, in addition to the main income tax return, several have separate LLC fees. We file 175 returns to the various states for LLC taxes and fees.
Filing VAT and GST tax returns in Canada, Australia, the EU, New Zeland and Singapore. (Again… each with their own sets of rules and requirements.
Filing returns for 17 real estate entities, all with quarterly estimates.
Filing over 100 Maryland Personal Property tax returns and annual reports for the LLC.
Monitoring whether or not we are meeting reporting thresholds.
Managing due dates and foreign account reporting.
Providing shareholder information to various accounting firms and professionals.
Managing government correspondence and audits for all these jurisdictions… and you can probably imagine they are growing exponentially.
Needless to say, we have our plates full. Luckily we have a rock star team! Good tax employees are hard to come by and we're lucky to be chock full of them. So I also want to take this opportunity to say "thank you!" to them.
Jeannine August, Tax Director
INTRODUCING: ONESOURCE… OUR TAX TEAM'S SAVING GRACE
The businesses we support operate and serve customers in a growing number of states and countries.  This expansion is a very good thing… it keeps us employed.  It also requires us to file taxes in more and more locations.
OneSource has made our tax filing job a heck of a lot easier.
OneSource is our third-party tax engine that handles sales, use, VAT (value-added taxes), GST (goods and services taxes), and some specialty taxes for us. It is currently integrated with Advantage for the US Affiliates. As tax rates change, OneSource and their tax specialists constantly update the system.  Gone are the days of a manual update process and the risk of errors.
The program's calculation of tax liability is dependent upon attributes that we provide. Those attributes include things like who the customer is, what they are buying, when they are buying, and where the item is being delivered. If the attributes we provide and the coding is correct, OneSource will provide the proper tax information
Right now, we are filing in the US, Canada, Australia, the EU, New Zealand and Singapore, and producing over 6,000 tax returns per year. But our digital footprint is growing and it's not going unnoticed, so we can expect the number of countries we file in to grow.
More on that next time… nothing like a little tax suspense to keep you on your toes!
Robin Lee, Tax Technologist
INTRODUCING: SOLUTION 7
Solution 7 is an Excel based reporting tool that is compatible with NetSuite. It's our replacement for BI360 and it offers a variety of analysis reporting and functionality that we'd previously never had
We've been utilizing Solution 7 for six months and most of that time has been spent converting over 250 reports from BI360. Now that we're fully transitioned, our team is diving deep into how to get the most out of this valuable analytical tool.
A few of the exciting functionality improvements we're already utilizing or plan to explore include…
Detailed P&L reports that can be refreshed on demand and in real time – While BI360 relied on scheduled updates every 24 hours, Solution 7 allows users to access live data from NetSuite, at will.  In addition, with Solution 7, we are able to pull, interact with and perform all of the financial analysis directly on the Excel file.
Expense analysis report to help find missing accruals – As we continue to place a stronger reliance on accrual-based accounting, this report calculates a trailing twelve-month average and compares it to the current period's expense.  Conditional formatting highlights significant fluctuations while advanced Solution 7 functionality, like the Drill Down feature, allow accountants, to quickly investigate variances.
Improved AR reports – We now produce advanced AR aging reports which provide a quick reconciliation and analysis to ensure our data is up-to-date and allows us to track money that we're owed. These reports will take all underlying invoices and journal entries from NetSuite and upload them into a pivot table to provide an aged summary. We're just starting to explore these reports and hope to have more updates for you next quarter.
Joe Grimes, Financial Reporting Manager
ADVANTAGE ACCOUNTING MIGRATION PROJECT
Over the course of 15 plus years, a company gathers a lot, I mean, A LOT, of data.  Most of the data is very accurate and very valuable.  However, over time, excess data starts to creep in, and after 15 years is adds up.  Think of it like your closet.  Over time you accumulate clothing… styles change, weight fluctuates and some purchases aren't as appealing any more.  Well, if you don't purge your clothes every so often you end up with a lot of stuff.  We have a situation like this with our Advantage data.
Therefore, as part of migrating the Advantage general ledger data into NetSuite's Accrual trial balance, bringing in "clean," i.e. only what is valid, data has become an important focal point for the 14W Financial Team.
We have been working with the  "Accounting Solutions Team" (Dave Demsky- FinTech Director, Dave Malinsky- Advantage, Nicole Deludos- EPP, Elliot Loeb- Fulfillment, Nick Daley- Payments, Arnie Saxberg and Craig Simmons- Financial Services) on supporting the "Clean Up Project".
What is the Advantage Clean-up Project? 
One example is where we create a process and implement rules that eliminate/ reduce Unapplied Credits. This happens when an order is cancelled, but instead of issuing a refund we apply a credit to a future order. If we do not enter the credit properly or if we do not have a policy to clear out any unused credits the amount of credits in our system just accumulate. A vast majority of these credits are not valid, which is why we want to clean up the information and only bring in "clean" data
Going forward we will monitor, review and distribute monthly unapplied credit reports to our affiliates on a monthly basis.  This will further help us prevent the accumulation of excess data.
The immediate goal is to clean up all Unapplied Credits that were created prior to 2019.
Another example of excess data is old Accounts Receivable Accounts Receivable are incurred when a customer fails to pay for their subscription or service.  We have a policy of writing off old AR balances; however, we sometimes miss these when doing pub folds.  If we do not monitor our AR aging schedules the balances just continue to grow… we want to make sure the balances are growing for the right reasons and only bring accurate data into Netsuite.
Other projects aiming at bringing cash in the house:
We are going to change the CFNP (Cancel for No-Payment) threshold to 180 days from the current 75 days. We have discovered a material amount of money can be collected from customers with balances older than 75 days.
We are looking at an opportunity to recover Sales Tax from orders that were processed but the customer did not pay. We filed sales tax based on orders… but we did not collect the sales tax and we need to get our money back. 
Erika Wilbourn, Accounting Manager
WESTECH & ACCOUNTING UPDATE COMING IN AUGUST
In an attempt to reduce costs and cut down on operational redundancies, WesTech reached out to see how they can help with "their" accounting processes and reporting.
Through our strong partnership with WesTech, we are happy to report that starting in August,  all of the accounting processes below will be directed to Danni Yan and  Brian Scheeler.  Danni and Brian make up WesTech Planning and Reporting team.  Let's do everything we can to help them do their job, which in turn helps us keep our clients pleased and enables us to meet our deadlines.
Accounting Tasks to be Transitioned to Danni and Brian:
Invoicing
Allocations
Concur Expense Approvals
Financial Reporting
Don't worry, when the time comes for the switch to be made "official", all invoices and approvals will still be sent to wtinvoices@14west.us. And 14 West Accounts Payable (ap@14west.us) will remain responsible for payment processing.
SURVEY | SUMMER OUTHINGS & TEAM GATHERINGS | Baltimore Only
We've been talking a lot about ways to get together for a summer outing. And ultimately, we'd like you to decide. So please take a moment to fill out this very quick survey.
Aside from our summer outing, we plan to get together at 1217 for a cookout sometime very soon. Be on the lookout for more details.
BOOK CLUB
For a recap of Daring Greatly and a glance at our top 5 takeaways, click here.
Our next book will be Can't Hurt Me, by David Goggins. Click here to sign up for your own copy. Can't Hurt Me is about how David Goggins transformed himself into one of America's fittest athletes through self-discipline, mental toughness, and hard work.
AN UPDATE FROM API
To no one's surprise, the global pandemic resulted in many changes across the world. The first big change we encountered was the cancellation of all Saint Patrick's Day celebrations, not just in Ireland, but across the globe! How is that possible and who would have believed it?! It certainly set the precedent for what was to follow.
After a few months in lockdown, we have begun to re-open the country in a phased process. For now, our team is still working from home and we have long-since adjusted to this new working environment. The pandemic has changed how we communicate. We are now relying heavily on RingCentral, Slack and Skype, and our productivity levels have remained the same, if not better!
I'd like to take this time to give a shout out to Kathlyn Stokes, on our team, and her husband Andrew. When the pandemic hit they quickly jumped into action to see how they could help out, and they played a huge part by delivering much needed PPE across Munster on their motorbikes. They were even featured in our local newspaper.  We would like to give a well-deserved shout out to Kathlyn.  You made us all very proud!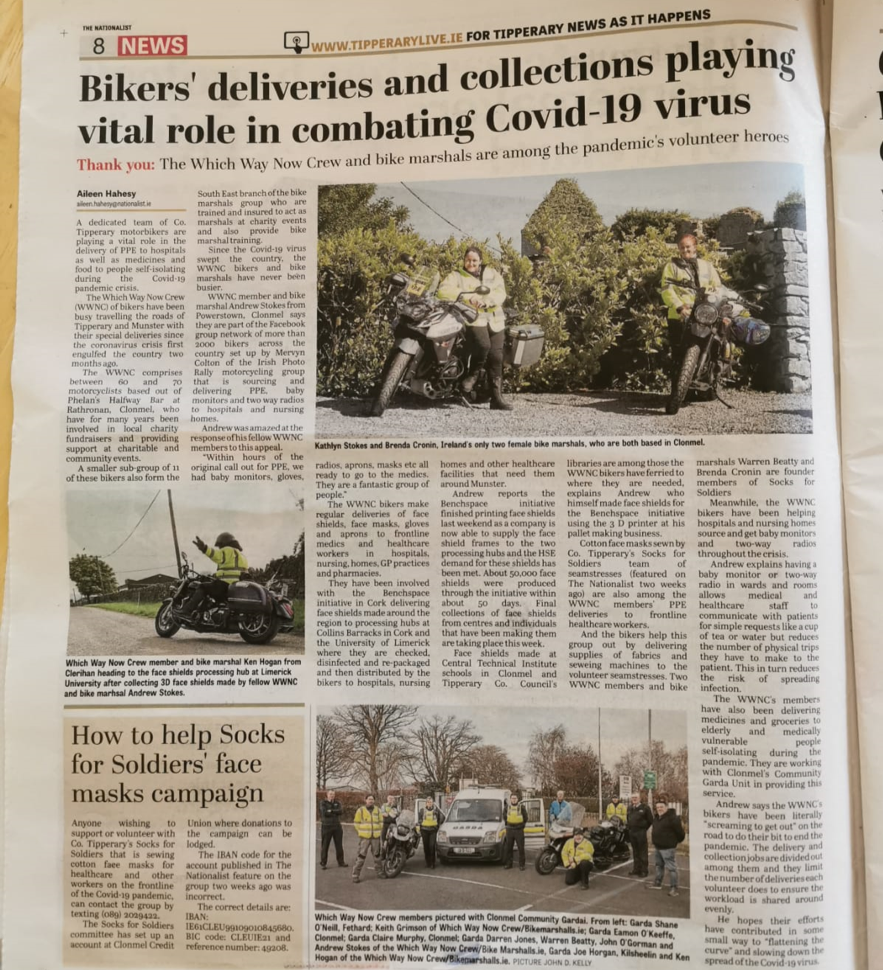 NEW HIRE
We are pleased to announce our GL Team Lead position has been filled, and our new team member will join us on August 17th. She will be a welcomed source of help and support for the team, and will be working to ensure that our clients are supported in the best possible way. We look forward to welcoming her to the ever-changing world of the Agora companies.
ONBOARDING
In addition to our existing clients, the team has been busy onboarding work from new clients.
We are in the process of transferring some of the accounting work for PAF from the team in Paris to our team here in Ireland. The sales reconciliation work transferred to Ireland late in 2019, and the AR, GL, and AP work is being transferred at present. We aim to provide PAF with a high standard service which allows their teams to concentrate on the everyday running of the business.
We have also been onboarding the accounting work for New Valley Health (NVH). This is a new business based in Switzerland which will sell health products. It is an exciting venture for our team, and will be different to the service companies and publication subscription companies which we currently support. We look forward to this new opportunity, and learning about the new business format.
We also look forward to supporting a third new business, Blackwater Press in the near future.
ORGANIZATIONAL CHART
For those who are unfamiliar with our team and our roles, we have included a brief organizational chart of who we are: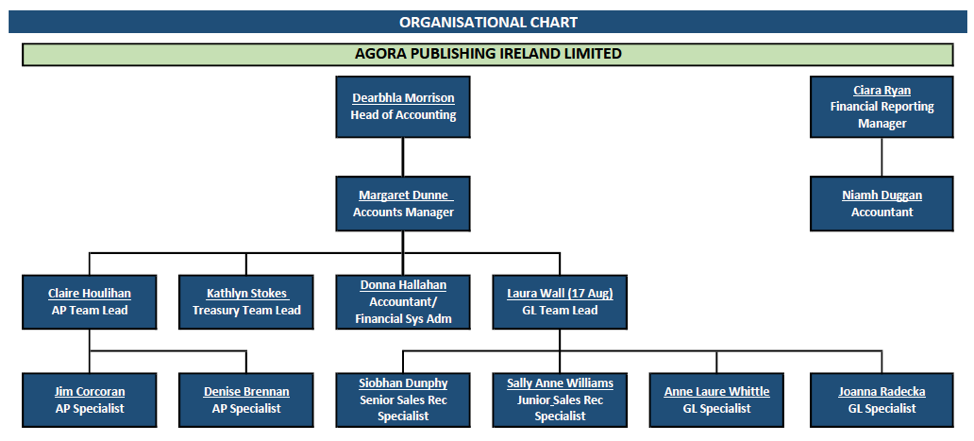 Siobhan Dunphy, Sales Reconciliation Associate
USEFUL TIPS & RESOURCES
While we have you, we wanted to remind you of a few free resources available to you. If you find yourself with some free time, we highly recommend checking out the below.
TRAININGS & WEBINARS
HOW TO: IMPROVE YOUR LINKEDIN PROFILE
It's no secret that LinkedIn has positioned itself as a necessary business tool for many professionals. And it doesn't seem to be slowing down anytime soon. In fact, it's one of the fastest-growing social media networks, meaning your profile on LinkedIn is speaking loudly on your behalf.
If LinkedIn is something you're interested in but you don't know where to begin and you would like some help, this WestWord article is a good place to start. Please know, Paige Tester is our resident LinkedIn expert and she is happy to help you. She'll walk you through the basics and even work with you to give your profile a bit of a facelift. You can reach Paige at ptester@14west.us 
As we work towards 2020 goals, I'd love to hear from you regarding how you think we're doing. If you have any suggestions that would allow for better communication, or comments on how you think we're doing, please let us know here.