A Workplace Highlight | Money Map Press
---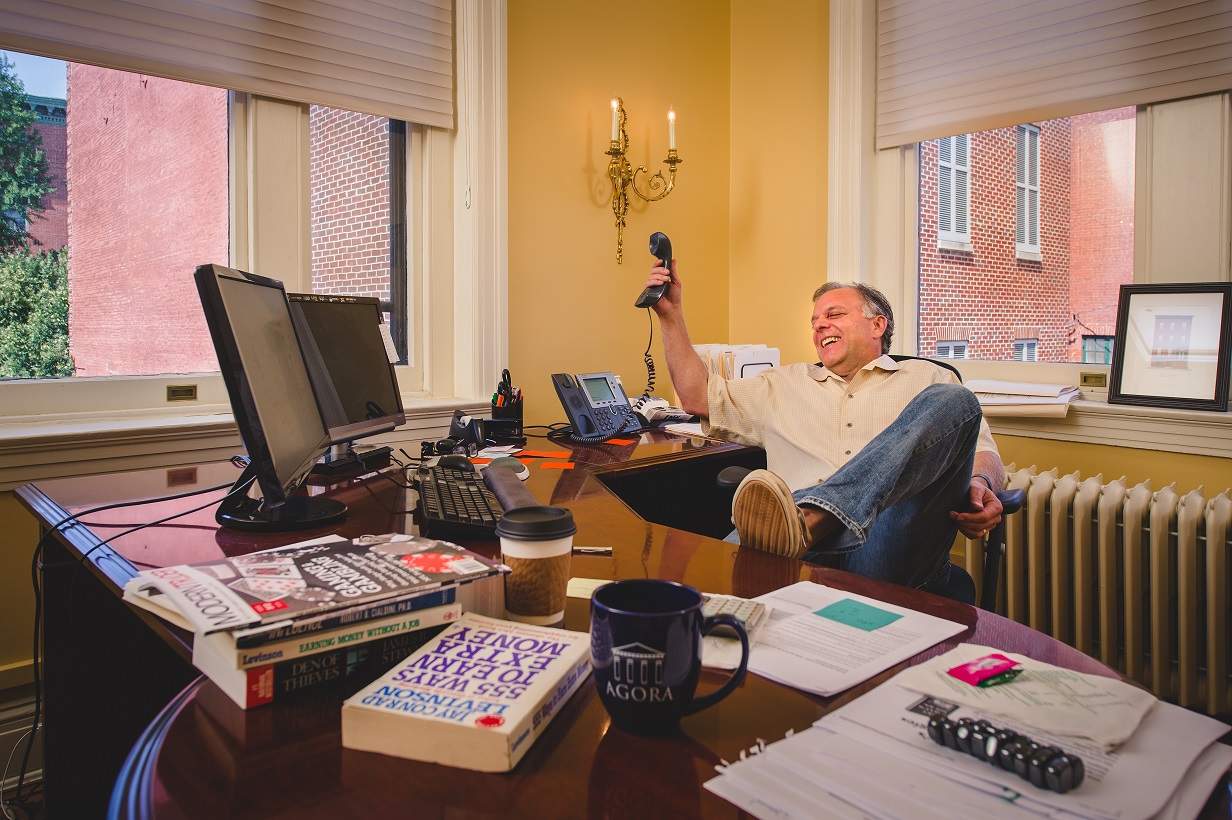 "Without passion, you just can't exist here."
A 14 West Workplace Highlight on Money Map Press
Money Map Press is a group of top experts on the global economy. This might not sound so interesting at first. There are experts on all sorts of topics in all sorts of industries and roles all over the world. But what makes these guys different is that they want to share their in-depth knowledge, insight, and ideas with you. They want to give you what you can't find or don't know to look for when relying on the mainstream media.  They want to make you just as much an expert as they are on a variety of topics, such as energy and currencies. They want to help you make the best investments possible.
They do this through their four newsletters: Money Map Report, Energy Advantage, The Nova-X Report, and Private Briefing. But we don't really want to talk about what they do.
We want to talk about how they do it… about the passion, drive, and determination that fuels their business, and the workplace culture they've created.
So here is it….
Our Money Map Press Workplace Highlight:
Money Map Press can be heaven on Earth for someone who is hungry to learn, and have a fun, fulfilling career. It is not uncommon for someone who just started in a customer service position, to 6 months later find themselves working as an Associate Editor alongside some of the strongest digital marketing minds and copywriters in the business.
But this is not the place for everyone.
"MMP" is for people who are ready to work hard. Really hard. And here, hard work can come with great rewards.
One of the qualities you need to possess to make it at Money Map Press is drive. And we mean "through the roof" kind of drive. The kind of drive that fuels growth.
In fact, the MMP group has now outgrown their cushy brownstone in the historical neighborhood of Mount Vernon, and plans to move into a larger historic building just a few blocks to the north, which was renovated and outfitted with state of the art equipment and amenities (think Google headquarters in Silicon Valley).
A well-oiled machine that runs on teamwork.
There are constantly a million different things that all need to fall into the right place at the right time. And they make this happen consistently, because of one thing – an unwavering team dynamic. The high energy familial spirit here makes the company feel more like a family unit that happens to have 120 highly creative and extremely competitive members.
The energy is contagious, and fed by the boisterous discussions, debates, and laughter that fill the office on a daily basis. If you asked one of their leaders where the energy comes from, you're likely to hear them compare their work to a game – and one they genuinely have fun playing. But above all, a game they want to win.
If you happen to run into a MMP employee, you will most likely find them in one of two states; either laser-focused on their latest project, or on cloud 9, beaming from ear to ear, hot off a home run. No bench-warmers here.
"Without passion, you just can't exist here."
The company has been recognized by the Baltimore Sun as one of the top workplaces in Baltimore, which helps explain why employees seem content to be so hard at work. After spending some time with them, you'll realize this trickles down from the very top. Leaders at MMP drip with passion and drive.
But they know when it's time to take a break, and how to use it. You're not going to find "employee appreciation day" on the calendar, but their successes are celebrated with well-deserved playtime and perks like skybox seats at Camden Yards, and holiday parties at the Four Seasons, where the champagne flows and live penguins from the Maryland Zoo are in attendance (black tie, naturally).
We're on an adrenaline high just writing about them. If you feel the same way reading this, you can check out their job listings here.
Don't see anything for you right now? Be sure to check back. Money Map Press is still experiencing growth, and new positions open up frequently. To stay on top of the latest openings, "like" 14 West's Facebook page. Or connect with us on LinkedIn.