Remotely Interested | A Year in Spain
---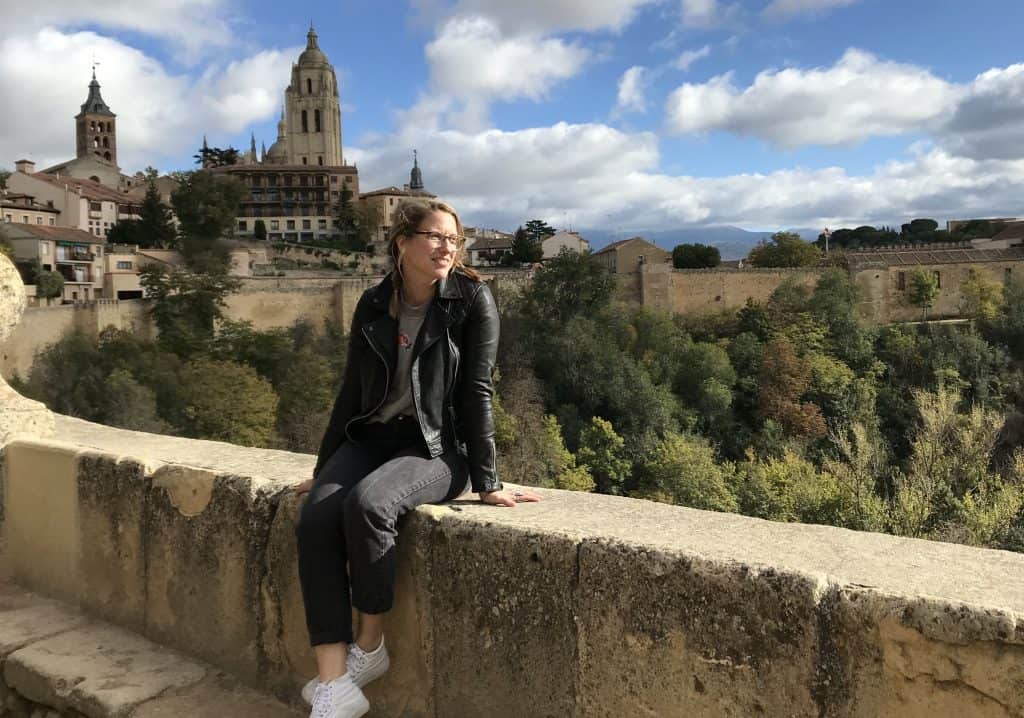 I spent the summer after college teaching in Ecuador. I didn't have any friends or family there, I didn't own a smartphone, and I certainly didn't have any plans for my return home. But I did have a Bachelor's in English, a couple years of Spanish classes under my belt, and a whole lot of wanderlust. Long story short, I loved it.
I truly believe there is nothing quite as satisfying as overcoming the struggles you face when living abroad, especially somewhere with a culture so different from your own. The smallest everyday tasks can become a challenge… like trying to buy milk at the grocery store, going to the doctor for that pesky cold that won't quit, or even trying to flirt with a cute guy.
It felt like every day I was conquering a new and exciting challenge that resulted in a nice little boost to my confidence. I fell in love with the feeling of personal growth and knew I wanted to do it again one day.
In the meantime, I returned home to the states and began working at 14 West. Years went by, and I continued to think about my desire to live abroad again. I started looking into moving to Spain, and the decision was made… I had to go.
But I faced a major dilemma: 14 West is an incredible employer. I love working here, and I didn't want to let it go.
One day it dawned on me, what if I asked them if I could do my job remotely in Spain for a year?
I thought it was a long shot, as I'd never heard of this happening before, but I pitched the idea to my manager. After some deliberation and planning, we decided to give it a go.
It's not every day you find an employer as flexible as mine or managers that support your personal growth and goals… especially when those goals might make it harder for you to do your job.
Even though it meant my leaving, and working in a time-zone that is six hours ahead, they supported my decision and wanted to help me pursue my dream of living abroad.
And so, I spent the last year living in Spain, loving it, and working remotely for 14 West.
While it's been one of the best years of my life, it hasn't come without its challenges. So, I'm sharing a few of the lessons I learned along the way.
READ BEFORE YOU DECIDE TO WORK REMOTELY FROM ANOTHER COUNTRY/ TIME-ZONE
1.) IT'S HARDER THAN YOU THINK
Working remotely takes self-discipline. That's a given. But it becomes exponentially more difficult when you factor in a new city or country that you are eager to explore. And even more so if you're living in a different time zone. Spain is six hours ahead of the East Coast, which means a 9am-5pm working day is more like 3-11pm Spain time. This has led to a lot of long nights and tired mornings, but that's what café con leche is for, no? My advice is to plan your schedule a full week in advance. Do not leave anything to chance. You never know how long it's going to take to get through your grocery shopping in a foreign language, or whether your metro ride will become an underground tour of the city.
2.) COMMUNICATION IS KEY-ER THAN EVER
My hours and job duties have been adjusted over the past year, and I've had to be open and honest with my supervisor about what has worked and hasn't worked for me. We have a weekly scheduled phone call that helps ensure we're on the same page.
3.) A LITTLE FLEXIBILITY GOES A LOOONG WAY
Remember that weekly call I just mentioned? There have been a couple of instances where I've missed the call due to forces outside of my control (i.e., a late train back from a weekend in Barcelona, a rare dose of food poisoning from a supermarket empanadilla), but luckily my supervisor has been extremely understanding. It helps that I try to be as communicative as possible if something does come up.
4.) KNOW WHAT'S EXPECTED OF YOU
Before coming abroad, my supervisor drafted a contract with the help of our Legal department regarding my time abroad. The contract made it very clear what was expected of me, and gave me an opportunity to speak openly about what I wanted as well. I was able to tell them how many hours a day I would be available, and negotiate a return date I could be happy with. While I strongly recommend drawing up a contract, I can't stress enough how important flexibility is. Your employer will likely ask for a little wiggle room as well. You have to be comfortable with terms stating that either party can terminate the agreement at any time. Plain and simple — this is a risk you have to be willing to take.
 5.) TRUST IS A MUST
Never in a million years did I think I'd find an employer who would allow me to live out my dream of living abroad. But I don't think every employee would or should be trusted to. Prior to leaving for Spain, I'd already been at 14 West for four years. During those four years, I proved that I was trustworthy, self-disciplined and loyal to the company. All of which are important characteristics when working almost 4,000 miles away from the rest of your team. Your team needs to know they can rely on you, and you need to know that you're still a key member of the team.