No Dev is an Island | Takeaways from Ready, Fire, Hack
---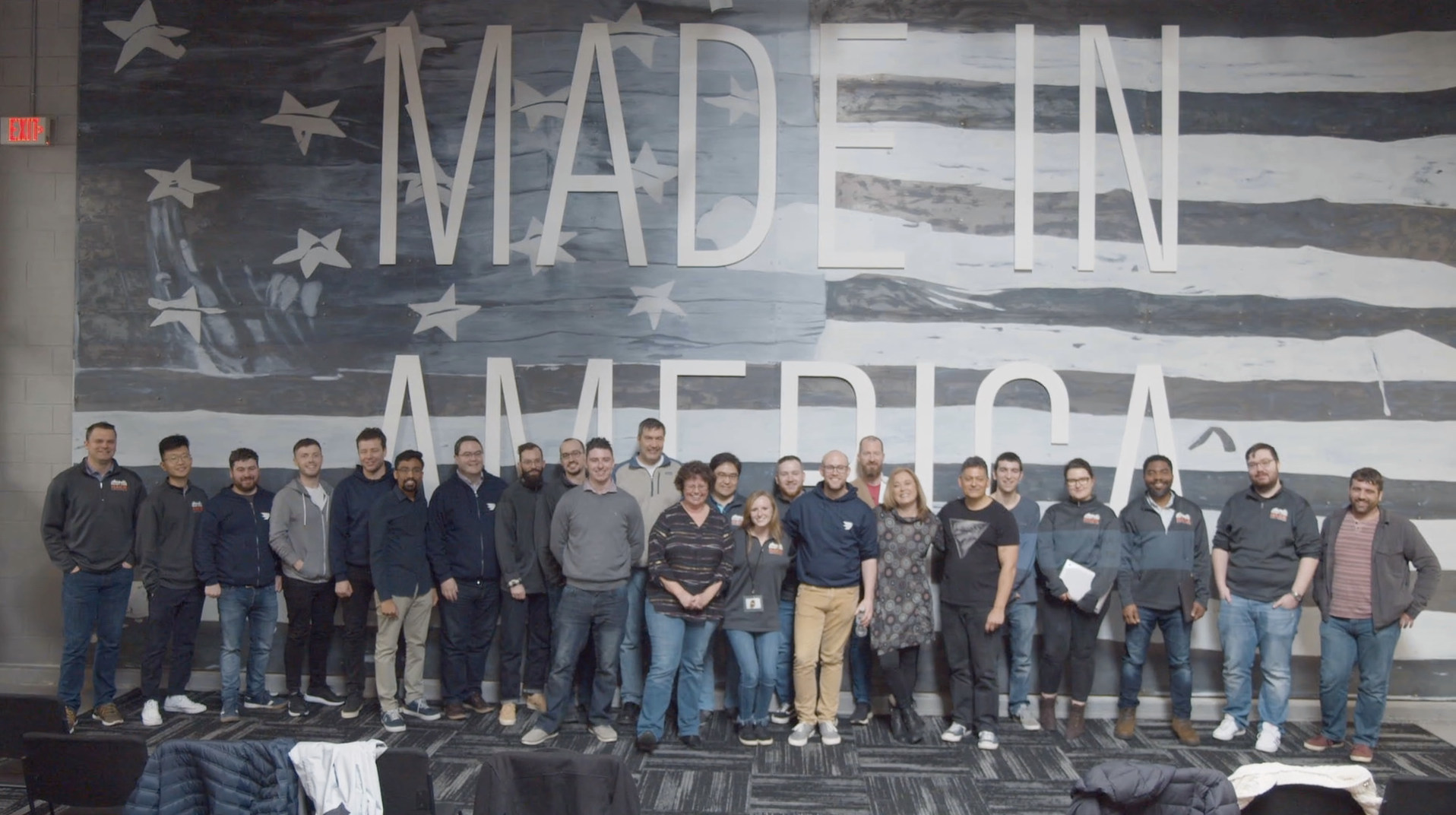 THE WHAT
14 West's Tech Solutions team (affectionately known as "WesTech") designs, develops and supports the technological infrastructure that businesses rely on to remain at the forefront of the modern-day media movement. Threefold Systems, one of our international partners, is a solutions-focused design and development firm in Ireland that strives to deliver the awareness and engagement clients need to drive conversion, retention, and ultimately revenue. For simplicity's sake, you could say that WesTech is responsible for laying the foundation and our partners at Threefold are the experts in developing curb appeal. For three days, the two businesses came together in Baltimore to collaborate and conquer some of the industry's greatest challenges.
We called the experience "Ready, Fire, Hack."
THE WHY
In a business environment that is ever-evolving, the idea of delivering a perfect, shiny, sustainable solution straight out of the gate is flat out unrealistic.
We've always known that software development and technology require our developers to continuously learn new skills and techniques. Furthermore, the pace of business change requires them to develop a deep understanding of the companies that we support and their business environment – one that is particularly fluid given the constant changes we see in marketing tactics and privacy law. The key to ensuring that 14 West and Threefold continually add value is making sure that they have the opportunity to engage in activities that enable them to develop their technical and business knowledge. And what better way to do that than by putting their heads together, mixing levels of expertise, and creating teams that have more than one business perspective.
Ready, Fire, Hack aimed to address the challenges both 14 West and Threefold face by presenting the teams with a selection of business challenges or opportunities that require them to conceive and create innovative solutions that have the potential to generate real value. We focused on Customer Experience, Compliance, and Content Engagement. And the event created a forum for the two teams to collaborate and learn from one another in an intense, delivery-focused environment.
THE HOW
Leaders from 14 West and Threefold hand-selected a group of employees to participate in the hackathon. The employees were divvied up into five teams and were given the choice to pick one of the three business-relevant themes that focus around leveraging innovative technologies to improve customer experience and compliance. Again, those themes were Customer Experience, Compliance, and Content Engagement.
With the help from our friends at Betamore, we kicked the event off at City Garage on Wednesday, March 4. Before we even got to work, our teams got to see presentations from Margaret Dawson, VP Portfolio Product Marketing at Red Hat, and Vijay Chittoor, Co-founder & CEO at Blueshift. Dawson stressed the need for diversity among tech teams. While Chittoor focused on customer experience, explaining that more customer data is available to everyone, and we should be relying on AI to leverage that data. Both insights were crucial in starting out on our journey and helped guide the teams along the way.
The teams had until Friday, March 6 at noon to come up with solutions to whichever challenge they chose to tackle.  And on Friday afternoon, the teams presented their solutions to a panel of four judges, each of whom was a team leader at either 14 West or Threefold Systems. When deliberating, the judges looked at value, innovation, teamwork, and completeness.
THE TAKEAWAYS
This was the first time that we have ever hosted this type of event, and hopefully, it will not be the last. It was an opportunity to see a huge amount of creativity, enthusiasm, and teamwork.
The team that came in second place focused on improving the Customer Experience by attempting to leverage artificial intelligence, machine learning, and alternative customer interaction methods. Their solution was an interface that used currently unused data to create a more timely and personal experience for the customer.
The winning team chose to focus on the theme of Content Engagement, which specifically challenged them to come up with a content-delivery prototype that is designed and engineered to engage a reader and encourage them to spend more time exploring long-form copy on a mobile device. Their solution was a content management system that broke up the content by taking the user on a customized journey. Leveraging data to customize the experience was a tactic that was seen with the runner up. But team member Luigi Zuccarelli from Threefold Systems took things a step further and sat down in person with editorial teams to understand the entire process – a tactic that helped bring the win home.
Ultimately, we learned that innovative teams are a product of collaboration. Software development is still mostly a communication problem. When building out teams, our gut reaction is to find people like us. But we need to think of the diversity of perspective, role, and ability to perform. That makes a high functioning team. This hackathon presented an opportunity for a huge amount of collaboration between very different tech experts, and the winning team went beyond that by stepping outside of the tech world to understand the whole process.
Congratulations are in order for each of the teams for coming up with actionable solutions that we are working to refine and implement. And a huge thank you to all of our partners who helped us make this happen – Betamore, Red Hat, and Blueshift.