5 Questions I Get Asked as a Woman in Tech
---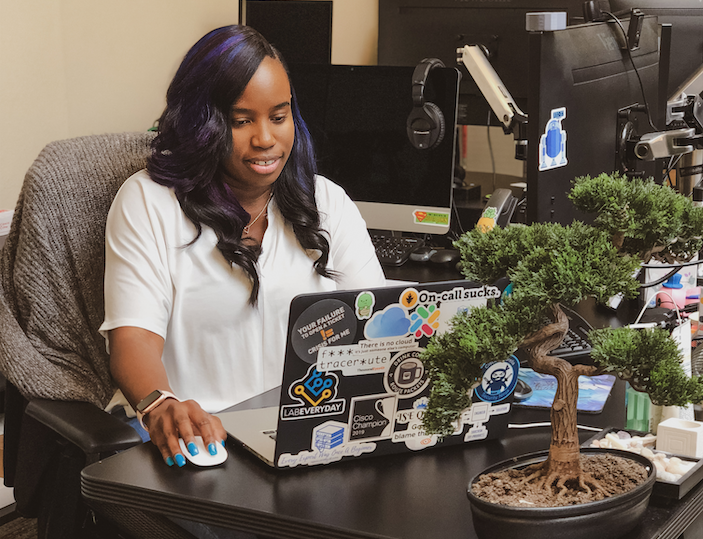 I started my career in tech almost ten years ago as a Network Engineer. I've grown from what we call a "Tier One Technician" (which is essentially someone who receives, assesses and assigns support requests) to a senior level Engineer on the 14 West Global Technologies team… or WesTech as we like to call it. I spend my time leading a team in the design, implementation, maintenance and support of large-scale solutions and infrastructure systems for companies all around the globe.
And while the work is exciting, challenging and extremely rewarding, I take a great deal of pride in my role as a black woman in tech. There aren't nearly enough of us. When you consider the challenges that women – and particularly women of color – face in this industry, that shouldn't come as a surprise. But politics aside, the tech environment cannot remain a "man's world" forever… even the notion of that just simply isn't sustainable. And personally, I love that I have the opportunity (the responsibility, really) to play a part in this change by leading and supporting the other women who share my passion. Passion is everything in technology professions.
Working in tech can require sacrifice, late nights, early mornings, and a never-ending commitment to sharpening your craft. As soon as you get comfortable, the rules change. When one solution is up and running smoothly, another is breaking down or becoming obsolete. And we can't afford to hear the noise that bias – whether it be age, racial, gender, or otherwise – creates. We've got to find the places and the people who believe in us and then perform. That's how I see it, anyway. And it's working for me.
Still, I'm keenly aware that outside of my personal experience and my workplace at 14 West, there is plenty of progress to be made in the larger tech community and I want to help other women enjoy the same type of success and fulfillment I have by sharing my story and insight.
So…here it is.
The 5 Questions I Get Asked the Most as a Woman in Tech
1.) How do you balance work and life?
Work-life balance is difficult for everyone – and honestly, I'm still working on this. I actively prioritize the quality time that I spend with my family and friends by unplugging and being completely present. This way, I never feel like I'm missing the important moments. Clear communication with my manager and my team when I need some extra flexibility goes a long way, too. When I need some time for myself, I take advantage of 14 West's wellness program to exercise regularly and de-stress with yoga.
2.) What about motherhood and tech?
Three words: schedule, communicate, and prioritize. I live in my planner. My to-do list is never-ending and regularly consists of coordinating my son's day-to-day, working, studying and creating content for my blog. My first priority is always my son, but I need to be realistic. It's no good for anyone if I let my "mom guilt" take over. But I won't sacrifice my family for my career. By accepting that I just can't do it all, I make clear, healthy decisions about what I can manage and I can be more confident in all of my roles including motherhood. This is easier said than done. I try to keep the goal simple; prioritize the moments I can't get back, stay flexible on the rest, and communicate.
3.) Do you ever struggle with confidence? How do you overcome it?
Yes – absolutely. Impostor Syndrome is a very real thing, and it will drain you if you let it. And the hardest part about it is that you can get all of the positive affirmation you could ever hope for, and it doesn't necessarily make you feel more secure. In fact, sometimes it can backfire. On a fairly regular basis, I need to remind myself, "you are in your role because you were the best candidate for the job." And whether or not I believe it in that moment, I need to put those feelings aside and get back to it. It's very common for women to question themselves and compare their technical abilities to the men around them.
I decided a long time ago that I wouldn't let these feelings stop me, and instead I'd use them as fuel. I could be pitching new ideas, asking for more responsibility, or asking questions… and those feelings may be there in the background. But I remember: feelings are not facts. When I focus on the facts – my accomplishments, the support of my colleagues and friends – I'm more comfortable with who I am, what I know, and even what I don't know. No one was born an expert.
4.) How do you combat biases in the tech industry?
This one's tough. I try really hard to focus on my skills and staying sharp. I show up each and every day as the best engineer that I can be. I always concentrate my energy on what I can bring to the organization. If and when questions arise, I back up all of my research with supporting data. In a way, you could say I've used these biases to my benefit. I want to know my stuff inside and out, frontwards and backward, upside and down… better than anyone else in the room. But most importantly, I also make sure that I use my voice to support, empower and encourage change whenever I see or hear something biased.
5.) What advice would you give to women entering the tech field? Anything you wish you had known?
Early in my career, I was encouraged to "fake it 'til you make it." It was some of the worst advice I'd ever gotten. Any person – man or woman – entering the tech field should commit to learning. For women, however, there can be fear about coming off as less knowledgeable or somehow inferior. And a lot of women become uncomfortable asking questions, asking for help or seeking out a mentor. Reader, if this sounds like you, I'm telling you, you've got to get past this. Fear is one of the greatest threats to your growth potential. In my opinion, this can be toxic and only feeds into Impostor Syndrome. Be honest about what you don't know and seek guidance when you need it. When you get overwhelmed, break it down and take it day by day. A career in tech is a marathon, not a sprint.