10 Baltimore Venues We Love
---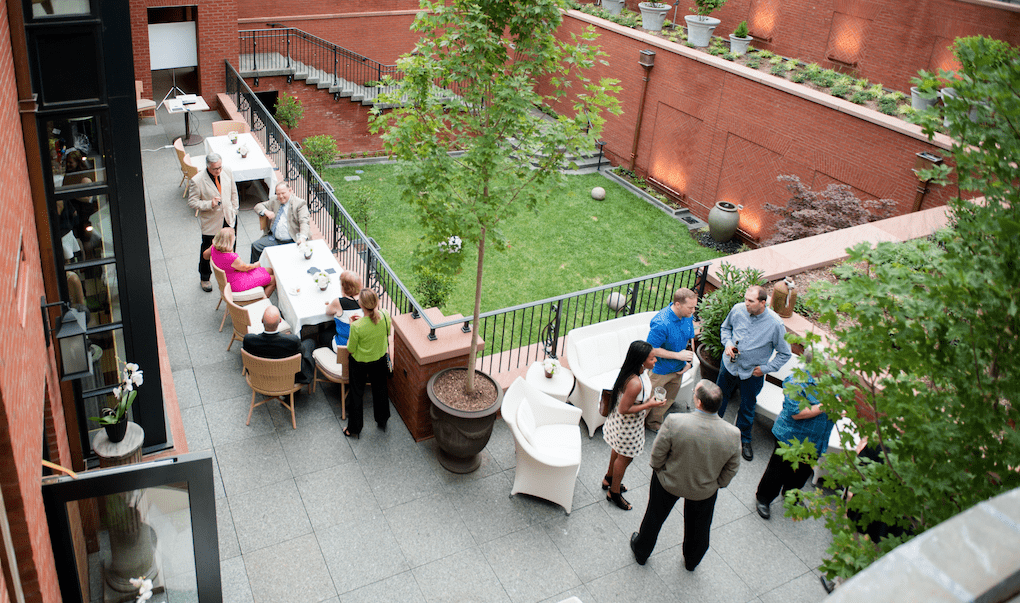 Whether it be a small upscale private dinner, a large conference, or a black-tie holiday party, we've done it. We have held events of all sizes for all types of reasons in all types of places.
If you're looking to host a group in Charm City in the near future, let us make a few recommendations.
Here are some of the best venues around town, what we love about them, and what you ought to know before you go.
Neighborhood: Historic Mount Vernon
Vibe: Just as if you plucked a building from a New England Ivy League campus and dropped it in the heart of Baltimore's historic district, the Club is complete with a grand staircase, taxidermy animals, and a secret room. Maryland Club is everything you would expect from the city's oldest and most exclusive men-only club. But don't worry ladies, women are more than welcome to dine here as guests of members, and of course are welcome to attend as guests during events.
What we love: One of the many reasons this one stands out from the rest is that – very simply put – the club drips with history. While the décor is rich and sumptuous, it is tastefully understated.  You can also expect flawless service, an endless (and very flexible) list of catering options, and a wealth of knowledge and experience amongst their events team.
Accommodates: Groups of all sizes. Private lunches and dinners for groups of 10–50 people can be hosted in your choice of a number of different spaces – each designed in a unique theme. Renting out the entire club affords you all the room you need to host up to 800 of your nearest and dearest.
What you should know before you book: You do need to be a member or have a member sponsor in order to host an event here. There are also a few longstanding traditions and club rules that you'll want to be aware of and communicate to guests in advance. For example, the dress code is in effect even for events hosted in fully private spaces. There is also a policy forbidding cell phone use inside of the club… so be sure to hire a photographer!
Neighborhood: Pikesville
Vibe: Don't let the quaint suburban façade of Quarry Lake Shops deceive you. Tucked behind the Starbucks and Walgreens lies an upscale contemporary American restaurant with a French twist. Recently renovated, the restaurant's soft caramel hues make it easy to sink into luxury at its bar, velvety dining room, and outdoor seating with lakeside views.
What we love: This private space is filled with potential. The décor's muted palette allows you to transform the chic and subtle space into whatever your heart desires. The versatility of it as a blank slate pairs well with its accessibility and vast space. Your guests don't have to worry about pesky parallel parking or inclement weather; Citron provides ample parking and valet with an outdoor space that can be tented easily at your request.
Accommodates: 20–200 guests. Citron features 6 locations to choose from for your specific party needs. Choose their event space next door, The Cove at Citron, for the ultimate VIP experience with waterfront space, private entry, and private terrace.
What you should know before you book: Nestled in Baltimore County, Citron can seem far for your friends who sport their "I <3 City Life" bumper stickers proudly. Its location in the Quarry Lake Shops can make it easy to overlook, but its high-end feel and impeccable service make the price and location worth the trek.
Neighborhood: Port Covington
Vibe: Think: tech. This is a massive co-working space located in the up and coming Port Covington. It's fairly bare-boned with a clean, sophisticated look, allowing you to do what you want with it. But we wouldn't recommend doing much. This is a place for innovation, so the backdrop shouldn't be a distraction from the work.
What we love: The versatility. We recently hosted a hackathon here and it was perfect. There were break out rooms for the teams to innovate, centralized spaces for meals, and large spaces for presentations. Not to mention, they were able to bounce ideas off of other tech innovators using the space for their own personal projects.
Accommodates: 1-500
What you should know before you book: Make sure all of your bases are covered. There isn't much you can access within walking distance so if you'll need food and beverage, make sure to consider catering ahead of time.
Neighborhood: Fells Point
Vibe: This breezy spot on the water offers a low-key and casual feel to its visitors. In the heart of Fells Point, right on the water, Barcocina allows your guests to mingle comfortably inside or out while dining on Mexican inspired cuisine and sipping on gourmet cocktails.
What we love: Garage doors can roll up for an instant dose of sunshine on a beautiful summer day. Easy bar access promises that no one at your event has to wait in line. The open, industrial vibe of the space removes the stuffiness from the office and makes it easy to socialize.
Accommodates: Barcocina's entire restaurant can host up to 425 people. For a more intimate gathering, consider the Private Party Room that accommodates up to 135 people or the main dining room for a medium-sized function for up to 300.
What you should know before you book: Because of the open floor plan concept, the acoustics here aren't always the most conducive to a live band. Opt for a DJ instead, and ask for suggestions from guests beforehand.
Neighborhood: Fells Point
Vibe: Here, new meets old as marble mingles with the building's original Beaux-Arts brick. The fresh attitude is palpable as soon as you walk off the classic, cobblestone streets of Fells and into the Pendry's sophisticated and dimly-lit foyer. Everything is over the top—from the 35 feet tall ceilings to the 3,500-pound horse statue in the ­courtyard.
What we love: The novelty of the Pendry never seems to wear off. Each time you enter, there is something new to marvel at—from the grand entrance to the art-lined walls. It doesn't hurt that hosting gets you a discount on the hotel rooms either!
Accommodates: The more, the merrier. Sagamore is great for 200-250 guests.
What you should know before you book: The Pendry's extravagance comes at a cost. Keep this in mind if you're looking for a more budget-friendly location.
Neighborhood: Harbor East
Vibe: Feels like you've been transported to an Argentine paradise. Large leafy plants, lantern lighting, and rustic décor come together to create a dramatic and intimate experience even within the multi-leveled, expansive restaurant. The built-in stage and dance floor add energy to the setting as performers come to play live every night.
What we love: The menu, inspired by the meat-centric dishes of Argentina, is every carnivore's dream. Several different seating areas across the two floors break up the group but still maintains the openness of the party. Their Events team is also always on the ball and eager to please.
Accommodates: 300+ people. This space is as wide as it is tall!
What you should know before you book: This location is pretty deeply-steeped in its Argentine roots; keep this in mind if you are looking to incorporate a different theme into your event there. Also, no shots are authorized for purchase from the bar…not that we tried or anything.
Neighborhood: Historic Mount Vernon
Vibe: It's upscale and feminine with an old-world flair. Even though The Ivy is in the heart of Baltimore, it feels exotic. The mix of outdoor and indoor spaces contributes to the chameleon atmosphere of the hotel—each room has a dynamic and rich personality.
What we love: The bedrooms are fabulous and luxurious, and each of the four-event spaces is styled uniquely and differently from the last.
Accommodates: The hotel restaurant, Magdalena, is perfect for small, intimate dinners but can also accommodate larger groups (50-80 people) if you utilize the courtyard. Come here for intimate occasions where details are regarded with the utmost importance. Perfect for a wedding rehearsal dinner.
What you should know before you book: Menu is limited for events and can run at a high price point.
Neighborhood: Downtown
Vibe: Hotel Monaco feels grand and steeped in history with its rich color scheme and masculine design. An ornate chandelier greets you in the front entrance hall and elaborate patterns adorn the space's walls and fabrics.
What we love: Making an entrance. The bright and sparkly lighting and imposing pillars impress guests upon their first steps into the venue. Staff is friendly and options abound for event locations and menu choices for each unique guest.
Accommodates: 50-100 people.
What you should know before you book: Parking is not included and can be expensive. The hotel has a slightly corporate feel in areas.
Neighborhood: Historic Mount Vernon
Vibe: On the 15th floor of Hotel Revival, this location is the perfect date night spot with one of the best views of the city, hands down. With a modern boho vibe, you can decompress on a bar stool, play a round of foosball or just take in the view of the Washington Monument with a cocktail in hand. If you're looking for a more intimate vibe, take a step into the tropical oasis in the Garden Room where you'll be surrounded by plants and more fabulous views.
What we love: Topside offers fun cocktails and creative dishes that don't disappoint. Drinks on the rocks come equipped with ice cubes branded with a "T." And the list of specialty cocktails will leave you wanting to try them all. With a full menu, including breakfast, it is the perfect spot to go any time of the day.
Accommodates: Groups of all sizes. The Garden Room, which offers a more intimate space, can hold up to 40 people. It's the perfect place for a group happy hour. With tons of natural light and an AV connection, it's also a good spot for meetings.
What you should know before you book: The hotel offers $10 valet parking due to the inconvenience of limited parking. Definitely worth the visit. A unique hidden gem!
Neighborhood: Historic Mount Vernon/ Midtown
Vibe: This venue has more personality than a standard hotel meeting space. Its mixture of interior design elements makes it somewhat quaint and quirky. The gentle color scheme of blues, whites, and grays throughout the space feel delicate, charming, and relaxing.
What we love: The space is bright and clean, and yet the décor still offers plenty of character. If you feel inclined to style the space, you can. But if styling isn't in the budget, your guests will be inspired by the bold use of color in upholstery, cool cocktail tables, and gorgeous bookcases that stretch to the ceiling. The hotel's natural light and informal atmosphere make it extremely comfortable.
Accommodates: Preserve the intimacy of the space by booking events here for groups of 20 or less.
What you should know before you book: Catering options are limited so guests must dine in the onsite restaurant. Parking costs extra and the potential for varying the layout among different events is limited.