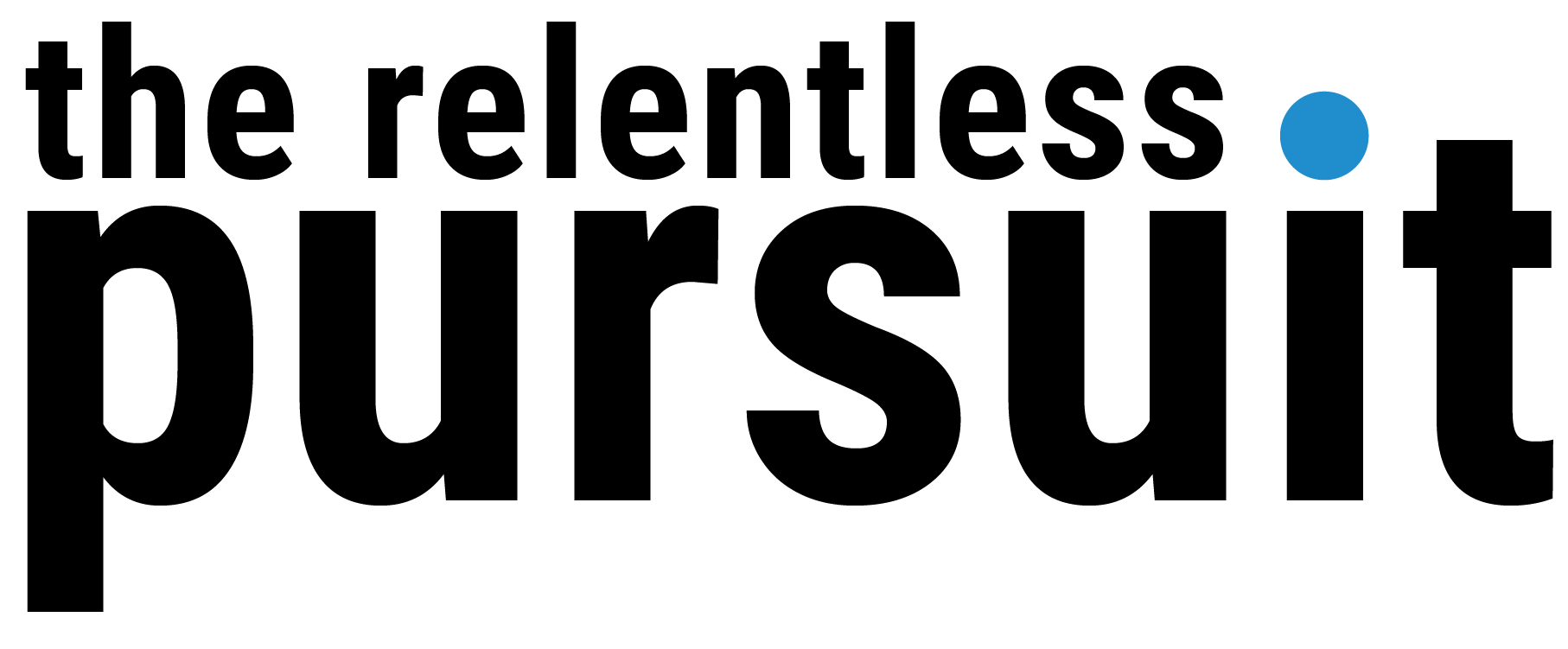 This year has had a lot of twists and turns, but there's no doubt in my mind that we'll take on the last quarter of 2020 stronger than ever before. We're not ones to get comfortable in where we are. Working in tech, you have to constantly evolve, and sometimes that's asking the tough questions. Sometimes answers lead us to being as efficient as possible in order to be the supportive foundation and the experts that the affiliates need.
I am and will continue to be very proud to represent this organization. We have accomplished so much, and you make it easy for me to show up each day with gratitude. I'm grateful for your perseverance, camaraderie within teams and across departments, and an unwavering willingness to learn. Last month's All Hands showed us just that. It was great to see just how far we've come and how our continued alignment allows us to set achievable goals for the future.
Now let's get into what you all accomplished last month.
IN THIS EDITION
Q2 All Hands
PUMA Update
OPIUM Downtime
Affiliate Spotlight Series
Blueshift Hell Yeah
A New Learning Venture in Evolve
StatusPage
Mavenlink Progress
Lytics Roadmap
Beware of Spear-Phishing
Free Trial Mandate
Welcome to WesTech
– Daryl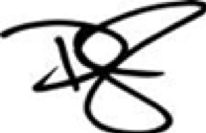 Q2 ALL HANDS | RECORDING
Thank you to those who were able to join us for last month's All Hands, it was certainly one for the books! In case you missed it, you can watch the recording here. 
PUMA TEAM | WT MARKETING CLOUD UPDATES
The Westech Marketing Cloud (WMC) app is making progress!  Watch this quick and informative WMC App Video to learn more about it.
LEAD GEN | The Lead Gen product is available to use, with several affiliates already getting comfortable creating Efforts, Creatives, and Journeys.  If you have any questions or would like access, please reach out to mwilliams@14west.us and he can get you set up.
ECOMM | The eCommerce components are in development and will be available in the 4th quarter.   If you are interested in being an early adopter for eCommerce, please reach out to jvirothaisakun@14west.us
Here are the priorities for the rest of this year for the WesTech Marketing Cloud. If you have any questions on the following initiatives, please reach out to me directly.
Ecomm components & Payment Processing in WMC
BI Integration for top level stat indicators/trends (ThoughtSpot for deeper dive)
Modern Lead Gen Features for Journeys & Creatives (beyond MVP)
Iterative Design/UI improvements
Blueshift integration in Journey builder
Trackmate integration for Journey visualization with stats overlaid
– Judy Bluhm, Platform for User-Centric Marketing Applications Product Manager
SCHEDULED OPIUM DOWNTIME | SEPTEMBER 26
You may have already received an email from Sarah Smiley this week, but we wanted to inform you that the PUMA team will be performing necessary maintenance to the OPIUM application and database on Saturday, September 26 at 3:00 AM ET. The scheduled downtime will last approximately two hours, during which time both the OPIUM application and order forms will be inaccessible. There will be no impact to any of our other applications or reporting during this time.
PLANNED WORK | This maintenance includes critical security patches to both the OPIUM application and database for increased performance, security and stability. This maintenance is necessary to ensure we are able to serve the best possible experience to our users, and continue to meet the security standards that are expected of our system applications at WesTech.
The entire PUMA team will be monitoring OPIUM and all of our other applications very closely during this timeframe to ensure orders are taken and processed once the system is back up.  Please report any issues to Support so our teams can investigate.
AFFILIATE SPOTLIGHT SERIES GOES INTERNATIONAL
Thank you again to the Business Partners over at APSI for inviting us to their first Affiliate Spotlight Series with CEO of Inversor Global, Eugenio Ianni. This is an integral insider's perspective of what happens behind the scenes at a financial publication outside of the US. Watch his presentation here. If you have issues viewing, please reach out to Kris Bezbailis.
We also played virtual host to Aaron DeHoog, Publisher at Banyan Hill earlier last month where he revealed their secret to writing breakthrough promos and much more. Even if you don't see yourself as a writer, you will find Aaron's presentation incredibly valuable. Watch it here.
QUICK NOTE | Aaron also wanted us to pass along the correct quote from Craig Groeschel: People would rather follow a leader who is always real rather than a leader who is always right." His podcast can be found here.
HELL YEAH | 1 BILLION MAILINGS (AND COUNTING)
Last month, we officially reached 1 billion mailings sent through Blueshift (as of right now, we are at 1.22 billion). This was a largely collaborative effort thanks to the Newshift and supporting Product teams for building out its functionality and the teams who worked with our users for adoption and support.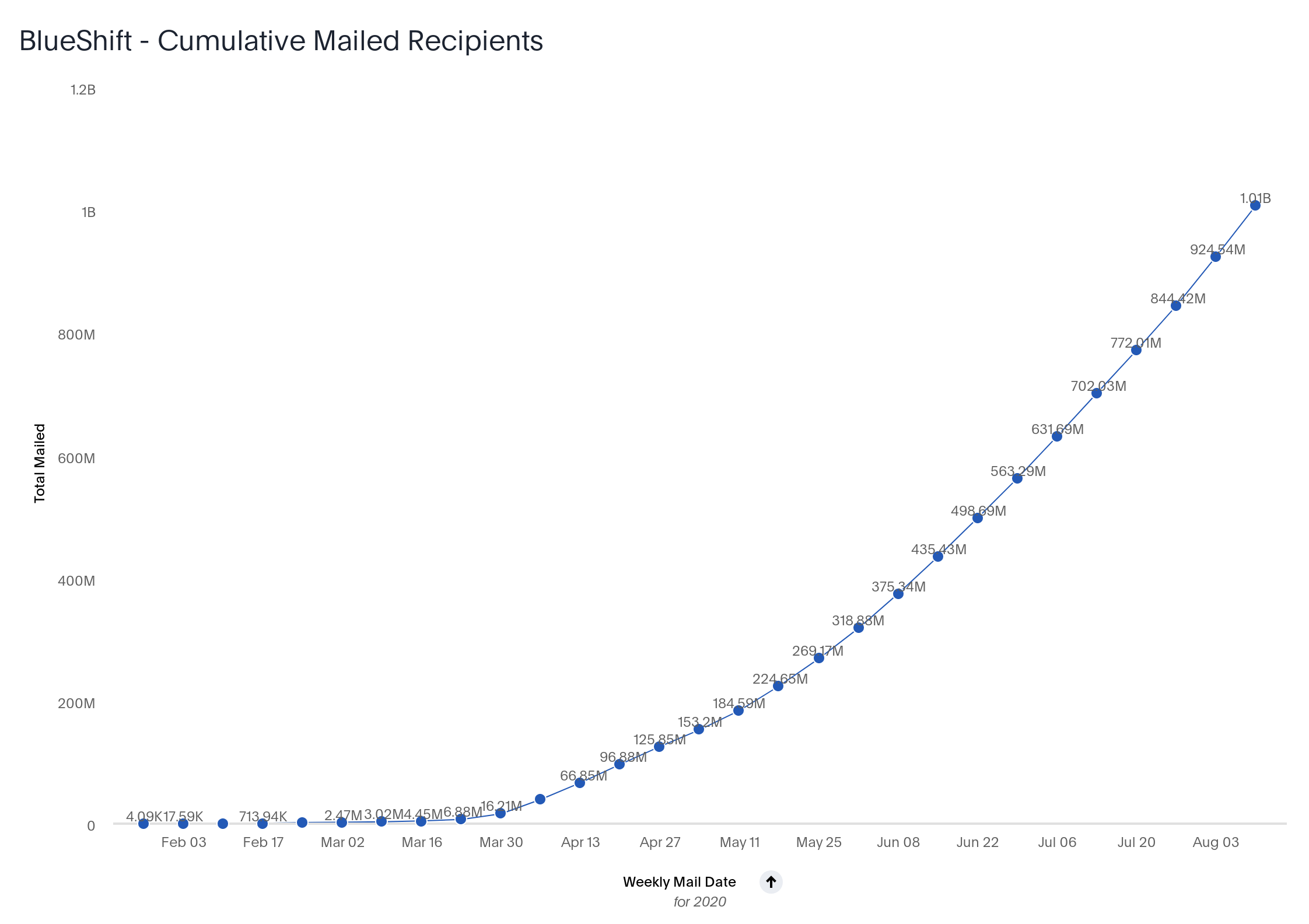 SKILL UP IN INTELLIGENT AUTOMATION
Intelligent automation has been an ultimate goal for Michael Bresler and the Strategic Solutions and Automation team. With its help, we can catch mistakes earlier and better strategize for the future.
If you'd like to know more about intelligent automation or robotic processes, there is now an Intelligent Automation workspace on Evolve where you can learn anything from the basics, how to spot opportunities for bots in your workflow, and much more. If you have any questions on bots and automation, reach out to Michael here.
WHAT'S THE STATUS?
Last month, I sent a message regarding how the 14 West Support team is handling incident response and let you know what you can expect from us when you-know-what hits the fan with one of our systems.
Whether it's Advantage, IRIS, OPIUM, FunnelCake, Blueshift, Signup App, Message Central, Middleware, Spine, Data & Analytics (formerly BI), and IT, you will get a communication from "noreply@statuspage.io" which is sent through our incident management application, StatusPage. What's really great about StatusPage is that you can get a quick glimpse of our systems health dashboard that shows the current and historic health of the applications. If you haven't done so already, please check it out here and subscribe to updates if needed.
If you have any questions regarding Support or StatusPage, please don't hesitate to reach out to me directly.
– Tony Browne, Director of Support
MAVENLINK IS LIVE!
Mavenlink, the new Project Portfolio Management tool, is finally here. Since March, the EPMO team has been working (with help from many of you) to implement Mavenlink and integrate with both NetSuite and Jira to improve the holistic management of Intake, Resource/Capacity planning, Project Management and Project Reporting across the organization.
Up until now, the organization has lacked a single and consistently used tool with the ability to properly manage resources, produce project level accounting, forecast, and report all in a centralized system.
Click here to watch the Video.
WHAT TO EXPECT FROM MAVENLINK
Resource Management and Allocation
Project and Milestone Management
Project Level Accounting
Capacity Planning
Forecasting and Budgeting of Projects and Estimates
Executive and Custom Reporting
Utilization and Time Management
INTEGRATIONS
Jira – Includes creating a Kanban board to pull over Epics for task management with the execution to include sprint or task level reporting
NetSuite – Captures labor and vendor costs that apply to project budgets while also improving project level accounting capabilities within billing, invoicing, and managing cost centers
TRAININGS | To help ease into the integration, we have started to begin training sessions with Project Managers. Training will continue through mid-September and grouped by roles and functionality within Mavenlink.
You'll be at the top of the list to receive training if you're a…
Project Manager
Product Owner
Scrum Master
Project Lead
Business Analyst
Trainings will be conducted through many formats such as live webinars with the Mavenlink team, live training sessions with the Mavenlink and 14W team, demonstration groups, short video series, and more.
Keep an eye for updates and invites on trainings coming soon! For any questions, please reach out to zwestfall@14west.us.
ROADMAPPING WITH LYTICS
In our latest Lytics Huddle, Dillon Paul, Senior Product Manager, and Mark Hayden, VP of Product Management, from Lytics shared their Product Roadmap for the remainder of 2020.
In this huddle, they offered a sneak peek into the major product updates and design changes that are scheduled to be released later this year and early next year. If you're interested in their vision for the future of Lytics, improvements to the workflow of the application, and more, please watch the recording here.
As always, if you have any questions about Lytics or would like to check the application out for yourself, please reach out to the Customer Intelligence team!
IMPERSONATION SPEAR-PHISHING ATTACKS
Here's a term you probably haven't heard about yet:  spear-phishing.  They're targeted attacks that are typically more advanced and can be personalized in an effort to dupe the users into believing that they are reading legitimate messages.
Spear-phishing attempts come into our environment every day, and many of you have also seen them.  The most common – and most dangerous – are impersonation attempts, where an attacker will use a random email address (i.e. a name with random numbers @gmail.com or @outlook.com), change their display name (friendly from) to someone in the organization, and send a standard email with a greeting and small request.  Some could ask for a cell number, changing direct deposit information in Ulti-Pro, or requesting gift cards to be purchased for co-workers or clients.  Since most us only notice the name of the sender, it's easy to miss that the email address.  Here's an example with the display name highlighted (note the email address to the right of it):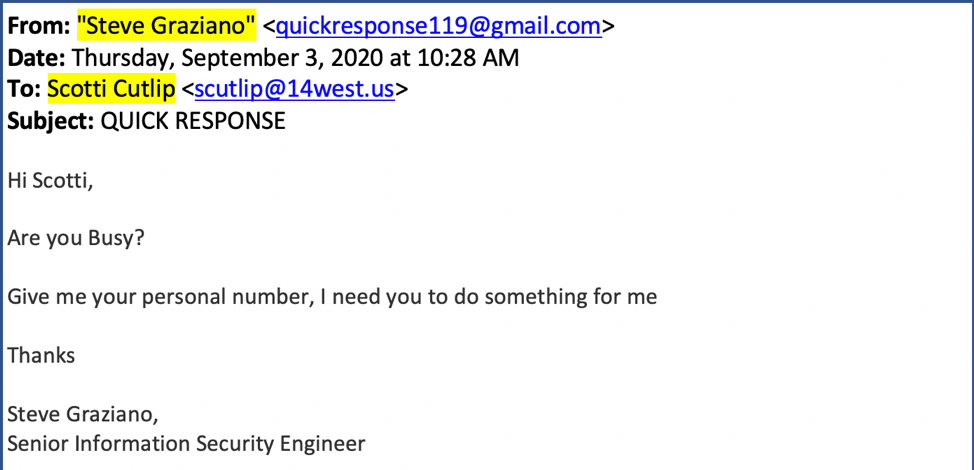 As we can see in this message, there's a number of things that lead us to believe this is not a legit request:
The email address "quickresponse119@gmail.com" does not match the email address for Steve Graziano, a 14 West employee, which should be "sgraziano@14west.us."
The subject line in all caps as well as other formatting and grammatical errors within the body of the message.
Our company branded signature is not at the bottom of the email. The signatures are appended at the end of every email as they leave our email servers.  Not everyone has one, but it's something to look for.  Alternatively, even with a company branded signature in an email, we still have to be on the lookout for these errors since signatures can be spoofed as well.
As with all emails you receive, always be aware that there's a possibility it may not be from who it says it's from.  Spend an extra minute or two to investigate the email, using the above as an example, to determine if the communication is safe.  If you notice that it is, in fact, a malicious attempt, then do not click anything in the email and do not reply.  Immediately report the message using the Phish Alert button in your email client or forward the email to security@14west.us so we can investigate the origin and assign blocks through Mimecast.
If you have any questions regarding this information or would like you or your team to have a formal training on these possible attacks, please let us know and we will be happy to set it up!
– Steve Graziano, Sr. InfoSec Engineer
FREE & LIMITED TRIAL MANDATE CHANGES
In an effort to reduce chargebacks for subscription-related charges originating from free and limited trials, Visa and MasterCard released a mandate that provides more clear information to consumers and helps merchants fight against chargebacks that occur.
TYPES OF OFFERS AFFECTED | These are introductory offers and free trials which include bundle offers, offering premiums of components in packages, and book offers.
WHY CHANGE IS NEEDED | It is important for each business to adopt this mandate and make changes not only to be compliant with the card brands, but to lessen the chargeback rate and help with friendly fraud. This helps our ability to represent and win chargebacks, avoid class action lawsuits, and also provides optimal customer service by helping customers understand what they are signing up for from the start with ample communication on how to cancel.
EPP (Electronic Payment Processing team) is working closely with the affiliates and internal 14 West teams to ensure all needed changes are made. The majority of the changes required for this mandate is revolve around communication.
After working with Vantiv and Visa, we were able to get an extension to be compliant by mid- October, 2020. Vantiv also approved the notion that we don't have to make changes to any of our e-comm systems that are sunsetting at the end of 2020. Everyone involved has been working diligently to meet our mid-October deadline and we look forward to implementing this mandate across the organization! If you have any questions about this mandate, please reach out to me directly.
– Elizabeth Cammack, Business Operations Analyst, FinTech
WELCOME TO WESTECH
We have quite a few newbies who have joined the WesTech family this past month! Please help us make them feel at home… even though it's virtual.
Eric Olsson | Managing Director, Data & Analytics
Eric is the newest member of the D&A team who is excited to be a part of the future vision of our data and analytics platform and architecture. He's an avid kayaker and hiker who enjoys cooking, spending time with his family, and going on walks with his dogs.
Loic Masson | Senior Data Developer, Data & Analytics
Loic will be joining Eric Olsson's team as a member of the D&A team and has already hit the ground running to help the department modernize its technological infrastructure. In his downtime, he creates with his 3D printer, codes mobile apps, and surfs when he gets the chance.
Josh North | Senior Business Process Analyst, Strategic Solutions & Intelligent Automation
Josh is joining Michael Bresler as his right-hand man, and is most excited about the uncharted landscape this team can do while leaving his imprint. When he's out of the virtual office, he enjoys golfing, fishing, and crabbing.