The Relentless Pursuit | April 2020
---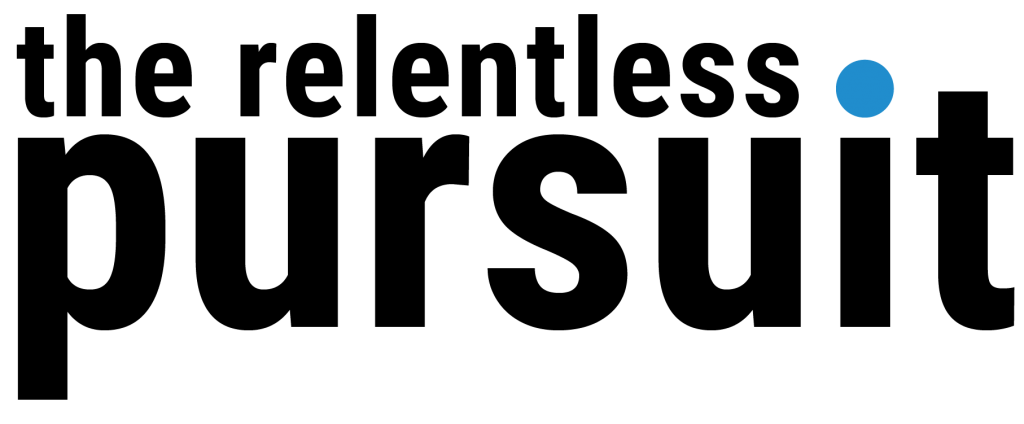 You've been hearing from me a lot lately. Admittedly, a lot of my communicating is compensating for the physical distance. I definitely miss being around you all. But I mostly want you to know that I'm available to you, and I want to help you feel connected and knowledgeable when it comes to where we are as an organization and how the affiliates are navigating the pandemic. To do that, I'm listening in on affiliate meetings around the organization, consuming as much of our content as I can, and reporting back to you with what I find most meaningful.
If you can manage to do more of this right now, I think you should. I predict this is an investment with promise for huge returns. And keep the communication flowing. The team updates and the ideas being shared on Slack make me feel proud and much closer more than I did in the early days of this quarantine. But beyond the connection, we can help each other and the businesses by sharing and thinking about what these changes mean for us – what we can do to help the business.
We're all in this together.
IN THIS EDITION:
Culture Survey Deadline
Q1 All Hands
Affiliate Spotlight Series
Slack Navigation
Scam of the Month
OKRs
No Dev is an Island
Hell Yeah | L&D
Further | Fintech
Cyber Thieves Hot on Your Trail
Remotely Interested
The Latest from Support
Soundview
Welcome to WesTech
– Daryl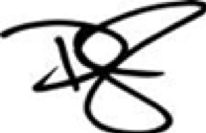 SLACK NAVIGATION
Whether you're a seasoned Slacker or a newbie, it's important to have a few guidelines as we depend on this application more heavily while working from home. Here is the rundown for a few of the popular channels:
#covid19 | Daryl wanted this channel created as a go-to hub for employees to find out the latest on how the pandemic affects our workplace. It's mostly information shared from the WesTech Execs and the 14 West Communications team.
#global-announcements | This is a channel that all internal WesTech, APSI and Threefold employees have access to. These are notifications that affect all three companies. Before posting on here, ask yourself if what you're about to post is appropriate to share with everyone on this Slack Workspace. If it is something casual or only affects a smaller audience, there's probably a better channel suited for that.
#newsfeed | Started last summer to allow WesTech to stay in the know during APSIFest, this channel has evolved to being the main hub for sharing what we learn at conferences, upcoming events and trainings. Since we're (sadly) not attending any events any time soon, please use this channel to share virtual conferences, trainings and internal events.
#okr_wall | Last month, we started to share the progress we're putting towards our quarterly and 2020 objectives. If you have accomplished anything – big or small – towards your own OKRs, use this space as a place to share it. You may just win a prize for sharing!
#wt-team-updates | At this moment, we don't have the luxury of passing fellow WesTechers in the hallway or along Cathedral Street, so it's really important to share what your team has accomplished. Each team needs to update this channel at least once a week to keep us all connected.
#random_westech | Is it a gif, joke, news article or anything that isn't work-related? Throw it here.
If you ever have questions about any channels in our workspace, click the channel's name at the top of the screen and choose "View channel details."
Here is a helpful guide to getting the most out of this tool, and if you have any Slack-related questions, you can reach out to me or Scotti.
– Lance Sturgis, Application Integration Specialist
SCAM OF THE MONTH | COVID-19
At this point, we've all been able to settle into this routine of working from home, but it's very important to remember that scammers are too. While we are busy worrying about where to find the next roll of toilet paper or how to keep our kids from killing each other, they are busy coming up with new ways to capitalize on this pandemic. As important as it is to keep our hands adequately cleaned, we must remain extra vigilant when it comes to coronavirus scams. Here are just a couple of methods that scammers have quickly started to use.
PHISHING SCAMS | This one involves a quiz. Just giving it a quick glance, it's obvious that this isn't something you want to click.  These links could take you to a fake page to grab your credentials, or could prompt a download to release malware – which is much worse.  There are other ones out there that are doing things such as asking you to confirm you are not infected or showing you the latest active tracker map. As with all phishing scams, DO NOT CLICK ANY LINKS unless you are 100% sure you know where it came from. And even then, I would ask someone first.
TEXT MESSAGES | This is another easy one, which involves receiving random text messages that tell you about how to get tested or information on the virus.  These are generally malware-based and are more dangerous than the ones you see in the emails.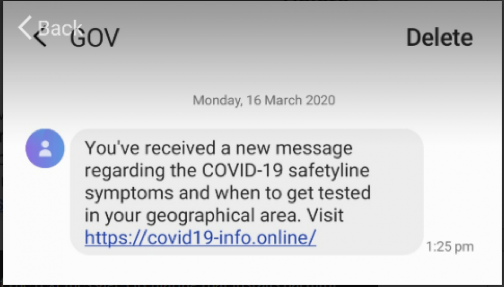 Other usual suspects include social media and phone calls.  As with emails and text messages, if you receive links in social media messages, invites to pages tracking the virus, or information on the virus, you should stay away. Even if the message came from someone on your friends list, it could generally mean they were hacked as well. Make sure you reach out to that person to confirm first.
As always, if you ever have any questions or are not sure please reach out to  security@14west.us. We are always happy to help.  Please stay safe and vigilant everyone!
–Paul Xu, VP Information Security
CHIPPING AWAY AT YOUR OBJECTIVES
OKR WALL | As you may have heard by now, we want to share the progress you've made towards your goals with the rest of the team. You can do so on the OKR Wall Slack Channel. Each week, Katie will take the names of those who participated that week and will put them in a drawing to win a prize.
Examples include:
Implemented "Scrum Master 360" survey to get team assessments towards scrum master growth opportunities. – Jeff Nichols
Designed training module on Performance Mgmt & Feedback for all leaders and employees, with training sessions beginning next week! – Ari Friedman
In support of OKR developing a discipline of operational excellence across the organization to deliver 80% of project milestones on-time with high quality by end of year, I hosted a KPIs lunch and learn to begin establishing time & quality measurements for BDT managed projects. – Kristine Krome
Morgan and Tori revamped monthly affiliate meetings to provide more value including bringing a new idea to each meeting to help them benefit from the services. – Michael Bresler
This is the APSI's OKR tracker for the roll out of Blueshift Internationally, in collaboration with 14W, Threefold, Email Deliverability, BI, L&D and Data Engineering. This quarter we have been aiming to onboard 6 new businesses onto Blueshift across Australia, Ireland, Germany and England…we have 7 working days to get as many in the green as possible…7 challenging days ahead of us but the spirit and motivation is HIGH. Without the collaboration of everyone across the business none of the below would have been possible…Let see how far we can get… – Pierre Fetat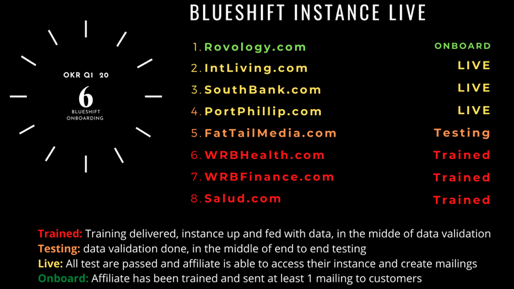 Congrats to the winners of the weekly drawings so far, Ari Friedman and Pierre Fetat!
BI-WEEKLY WEBINAR | Every two weeks, we review one of the 2020 Objectives for WesTech and how our teams are working towards getting the key results. Recordings can be found here.
NO DEV IS AN ISLAND | TAKEAWAYS FROM READY FIRE HACK
Last month, we hosted the inaugural Agora Hackathon, Ready Fire Hack where the developers from Threefold and WesTech came together to solve business-specific problems. We're happy to say that the event was a major success. You can takeaways about the event from Elliot Sneeringer here and make sure to watch the video of the event.
HELL YEAH | L&D WAS CALLED WESTWARD
Late last year, NewMarket Group approached L&D with a unique request. They had just opened a new contact center in Billings, Montana, and needed to build out specific training for their policies and procedures in addition to the usage of Advantage. After going through an overview of the training needed with a call center representative in Baltimore, we then went over to Montana to train their agents. In only three weeks, the team went from knowing nothing about Advantage and NewMarket Group to now being fully independent of the system. Due to the coronavirus, the agents are all currently working remote, but thanks to our training and the materials provided, they're still able to take orders and cancellations for NewMarket's products.
A huge shout out to Carine and Sid for working with me on the training materials and training needs. But we also couldn't have done it with such a receptive group of people at the call center.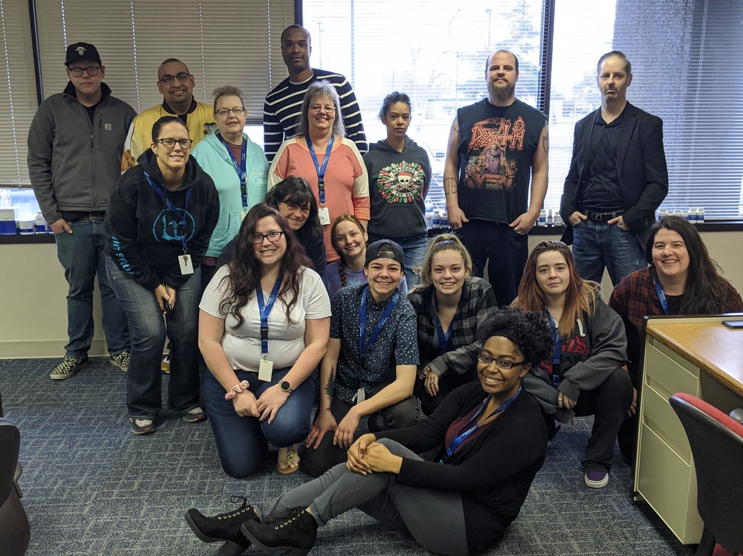 –Laura Appel, Senior Training Partner
WESTWORD BLOG | REMOTELY INTERESTED
If you haven't been tuning in to the WestWord blog, you're missing out on a series our very own, Michael Bresler has written. See below, and subscribe here to receive these straight to your inbox.
Remotely Interested | Working from Home
Remotely Interested | Week One of the New Normal
Remotely Interested | The Silver Lining
THE LATEST FROM SUPPORT
On the Products end, we are now handling all Global Porfolio, BI (Tier 1), EPP (Tier 1), Funnelcake, and Blueshift tickets. We've introduced a dedicated triage to ensure consistent communication and customer experience for our affiliates. Since onboarding quality scores for product tickets, we have seen an average of 13% improvement (22% for eComm queries). We're keeping up with Product teams by holding regular feedback meetings and delivering product reports. Working more closely with the Business Partners to coordinate regular touchpoints with the affiliates has helped improve visibility. The average time handling tickets has been reduced by 30% (see below).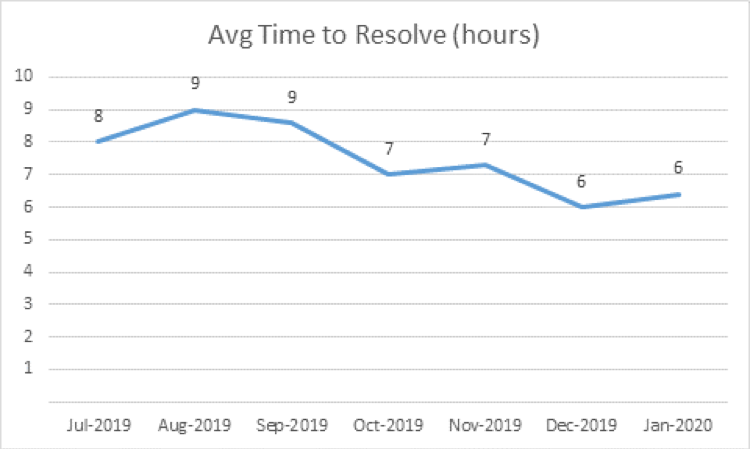 –Tony Browne, Director of Support
WELCOME TO WESTECH
Last month we welcomed a few new WesTechers to the family. For some of them, they've had an interesting first month and have had to spend a lot of onboarding via Zoom, so make sure you show them some extra love!
Beth Oertel | Instructional Designer
Beth is excited to start with WesTech and to learn from both the L&D and BI teams for the upcoming project for Data University. When she's not working, she enjoys a good yoga session, spending time with her families and cooking. Connect with Beth here.
Bobby Borys | IT Enterprise Architect
Bobby is the newest addition on Mike Walter's team and when it comes to the upcoming projects he'll be working on, he says "bring them on!" He's excited to tackle new opportunities and to build new relationships at WesTech. Connect with Bobby here.
Jimish Kadakia | BI Developer
Jimish is ready to hit the ground running with QlikView and QlikSense. He is interested in growing Baltimore's Qlik community and has recently become a Qlik Captain. We hope once we're back in the office, Jimish will be able to host an array of meet-ups with fellow Qlik enthusiasts in the area. Connect with Jimish here.
Tommaso Ranocchia | L&D Intern
Tommaso is looking forward to learning how to create content and how to efficiently communicate and display information in an effective and practical way. Coming from Perugia, Italy (famous for its chocolate), he is excited to learn from WesTech and to apply what he's learning in school in the real world. Connect with Tomaso here.
Tony Groves | Email Deliverability Specialist
Tony is a self-proclaimed email enthusiast who has hit the ground running working for the Deliverability team to help our businesses develop email best practices. In his down time, he practices martial arts. Connect with Tony here.